Daily Evening Number Raffle!
One $5 ticket gives you entries for the month of October. Purchase your daily number now and you will have a chance each night in October to win $50 (Straight) or $10 (for a number that is either one number over or under) the winning number. Winning numbers are determined by the NYS Lottery Evening number draw. Your number is good for the entire month.
If your number comes in straight on a Sunday Evening you will $100. October 12 (Columbus Day) will also be a $100 winner !
Call Phil at 631 334-5892.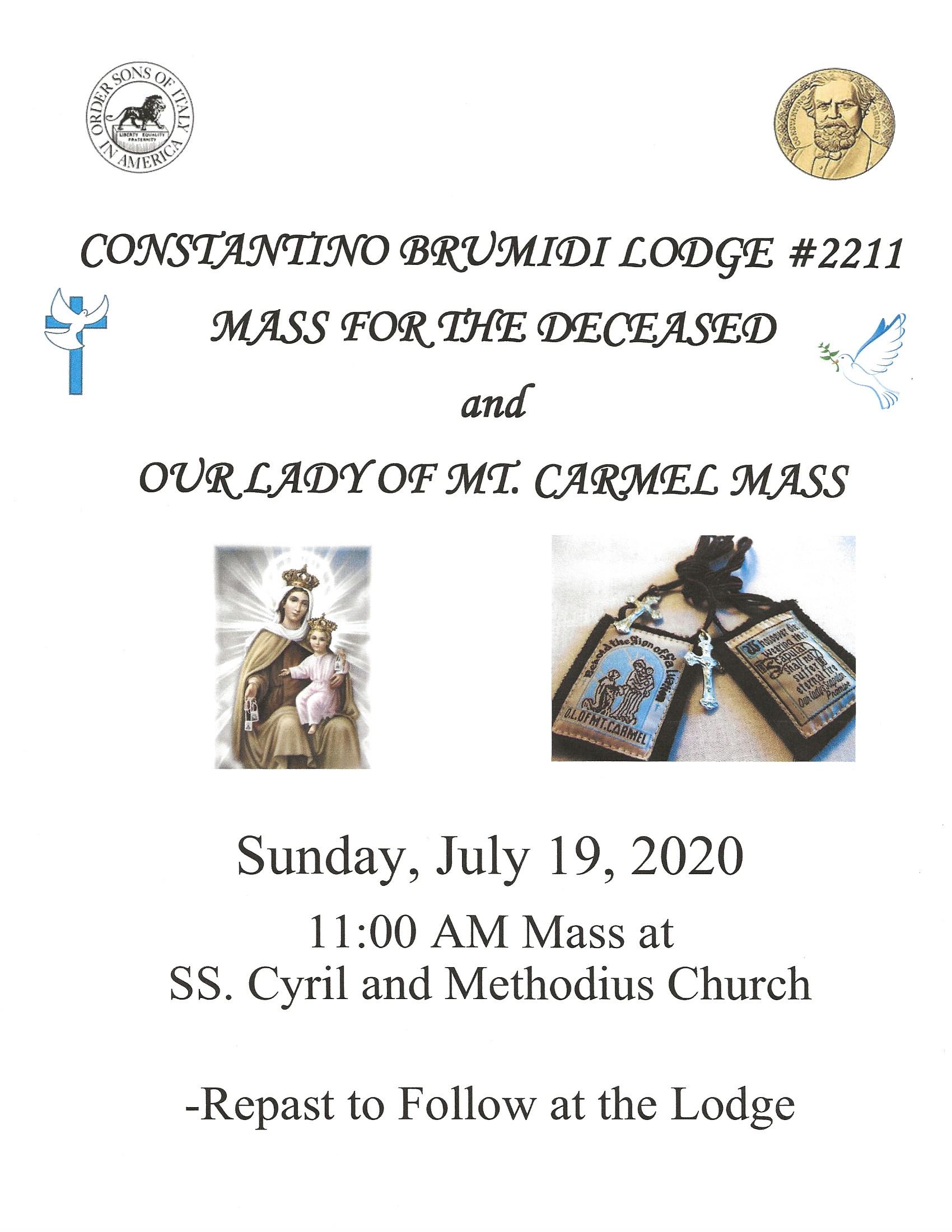 Mass will be held at Sts. Cyril & Methodius Church on a yet-to-be determined date
honoring our deceased Lodge Members while we pay tribute to Our Lady of Mt. Carmel.
A Testimonial Brunch honoring Daniel P. Calise for his community service as Grand Knight of the Knights of Columbus' Our Lady of the Rosary Council in Deer Park from 2017-2019.
The brunch will be held this Fall on a date to be determined from 11 am – 2 pm.
For Reservations Contact: Karen at 631 943-3622 or Barbara at 631 576-6899 or Carmine at 631 586-0883. Tickets are $35 per person, $40 for last minute.
Luau Dinner Dance will be held on Saturday, August 29 from 7:30 pm -11:30 pm.
Buffett Dinner, Dessert, Beer/Wine/Soda, music by DJ. Raffles
Music by J&G Entertainment. Dress in your favorite Hawaiian outfit (optional).
Proceeds go to Scholarship Awards.
For tix, call Ann at 631 243-0104 or Joanne at 631 661-5327
Join us for our annual 'Through the Decades" Dinner Dance on Friday, 9/18 from 7:30 pm – 11:30 pm.
Enjoy a fabulous buffet dinner and dance along with music to songs from the 1950's, '60's and '70's.
Dress in your favorite era (optional).
Dinner, Beer, Wine & Soda, Dessert and music by DJ J&G. $45.
Call Anita at 631 422-6914 or Karen at 631 943-3622 for tickets.
Sponsor an Italian flag because you are proud to be an Italian-American or sponsor one in the honor or memory of a loved one/family member or friend.
$20 per flag. It comes with a tag detailing the honoree and sponsor and will be displayed on the front lawn of the Contantino Brumidi Lodge #2211.
Flags are 3′ x 5′ on a 6′ pole and will be on display for the entire month of October in celebration of Italian Heritage Month.
Contact Karen at 631 539-9113
October 3-4 Italian Feast & Festival includes Food, Music, Craft Vendors, Vegas Nights and so much more.
More details Coming Soon!
Join us on Saturday, October 31 for a Spooktacular Dinner Dance.
Costumes Optional.
More Details to follow.
Ring in the new year with style! Great food, music, dancing, noise makers, champagne toast and great fun!
Thursday, December 31, 2020 from 8 pm – 1 am.
MORE DETAILS COMING SOON.