Sponsor an Italian flag because you are proud to be an Italian-American or sponsor one in the honor or memory of a loved one/family member or friend.
$20 per flag. It comes with a tag detailing the honoree and sponsor and will be displayed on the front lawn of the Contantino Brumidi Lodge #2211.
Flags are 3′ x 5′ on a 6′ pole and will be on display for the entire month of October in celebration of Italian Heritage Month.
Contact Karen at 631 539-9113
Play various card games or try your luck at the Roulette Wheel.
Free admission. 7 pm – 11 pm.
Food and drink available for purchase.
Learn how to adapt the same patterns to Waltz, Fox Trot, Latin and Swing by working on Technique.
Taught by Broadway & TV Star Lou Brockman
No partner needed, no registration.
Your choice: Come to ANY combo of lessons and Social Dance
Pay for Lesson & Social Dance separately $15 each
Lesson Price: $15, 6:15 pm – 7:15 pm
Dance Social & Buffet Price: $15 7:30-11 pm or
Lesson and Social $30
*Lessons: 6:15 – 7:15 pm, Social 7:30 pm
Private Lessons Available call Lou Brockman 973 449-9930, Lynne 516 993-1369
[email protected]
*Except when otherwise noted
Join us every Wednesday night from 7:15 pm to 10:30 pm to dance to the music of J&G Entertainment.
Dance Ballroom Mix, Latin Mix, Tango, West Coast Swing, Hustle and more on the largest dance floor on Long Island!
Buffet, Coffee/Tea and Dessert, Cash Bar. $17 per person.
Singles and Couples Welcome.
Group 'Silver Screen' Ballroom Lessons with Lou Brockman every Wednesday from 6:15 pm – 7:15 pm. $15.
Join us at Long Island's Dance Hot Spot for Latin Night from 8 pm-midnight the 4th Friday of each month (except Nov and Dec).
Dance Latin Mix, Salsa, Mambo, Merengue, ChaCha, Rumba and Bachata.
Complimentary Group Lesson from 8 pm-8:30 pm
Complimentary Snacks – Coffee/Tea, Dessert, Cash Bar
Singles & Couples welcome, reserved seating available for groups of 10 and up. $17
Music by 'The Ultimate Entertainer', Louis DelPrete.
Enjoy the live music of the Bill Wilkinson and the Long Island Swing Band while dancing the night away on the largest dance floor on Long Island.
Music includes Swing, Fox Trot, Ballads, Latin & More. Second Thursday of each month from 7 pm – 10 pm.
$17 per person also includes a Light Buffet Dinner, Dessert, Coffee/Tea and a Cash Bar.
For more information, call Bill W at 631 358-2931
Celebrating St. Patrick and St. Joseph at the Brumidi Lodge on Tuesday, March 17 at 6pm.
$30, children 7 years old and under are Free!
Enjoy Corned Beef & Cabbage & Pasta Fagioli,
Wine/Beer/Soda, Coffee/Tea & Italian Pastry
Tickets must be purchased in advance. Call Karen at 631 943-3622.
The Constantino Brumidi Lodge #2211 will install Lodge Officers for the 2020-2021 term at the General Membership Meeting on Tuesday, March 24 at 8pm.
Dessert & Coffee to follow.
RSVP: Bob Savino 631 422-6934 by March 17.
Breakfast with the Easter Bunny on March 29
Gifts, raffles, a full breakfast and pics with the Easter Bunny.
$12 per person.
Karen 631 539-9113
A Testimonial Brunch honoring Daniel P. Calise for his community service as Grand Knight of the Knights of Columbus' Our Lady of the Rosary Council in Deer Park from 2017-2019. The brunch will be held on on Sunday, April 19 from 11 am – 2 pm.
For Reservations Contact: Karen at 631 943-3622 or Barbara at 631 576-6899 or Carmine at 631 586-0883. Tickets are $35 per person if received by 4/12, otherwise, $40 per person.
Take this AARP defensive driving class and you could earn a multi-year discount on your car insurance.
Thursday, April 23, doors open at 9 am, class starts at 9:30 am.
$35 includes the Class, Breakfast and Lunch.
Call Danny at 631 514-9772 to reserve your spot.
Sponsor an American flag either in honor of a veteran, an active member of the military, a personal hero, a first responder, or in memory of a loved one.
Each Flag comes with a tag detailing the honoree and sponsor and will be displayed on the front lawn of the Contantino Brumidi Lodge #2211. $20
Flags will be on display one week before Memorial Day through Flag Day.
Contact Karen at 631 539-9113 by May 1.
Join us for our annual 'Through the Decades" Dinner Dance on Saturday, June 13 from 7:30 pm – 11:30 pm.
Enjoy a fabulous buffet dinner and dance along with music to songs from the 1950's, '60's and '70's.
Dress in your favorite era (optional).
Dinner, Beer, Wine & Soda, Dessert and music by DJ J&G. $45.
Call Anita at 631 422-6914 or Karen at 631 943-3622 for tickets.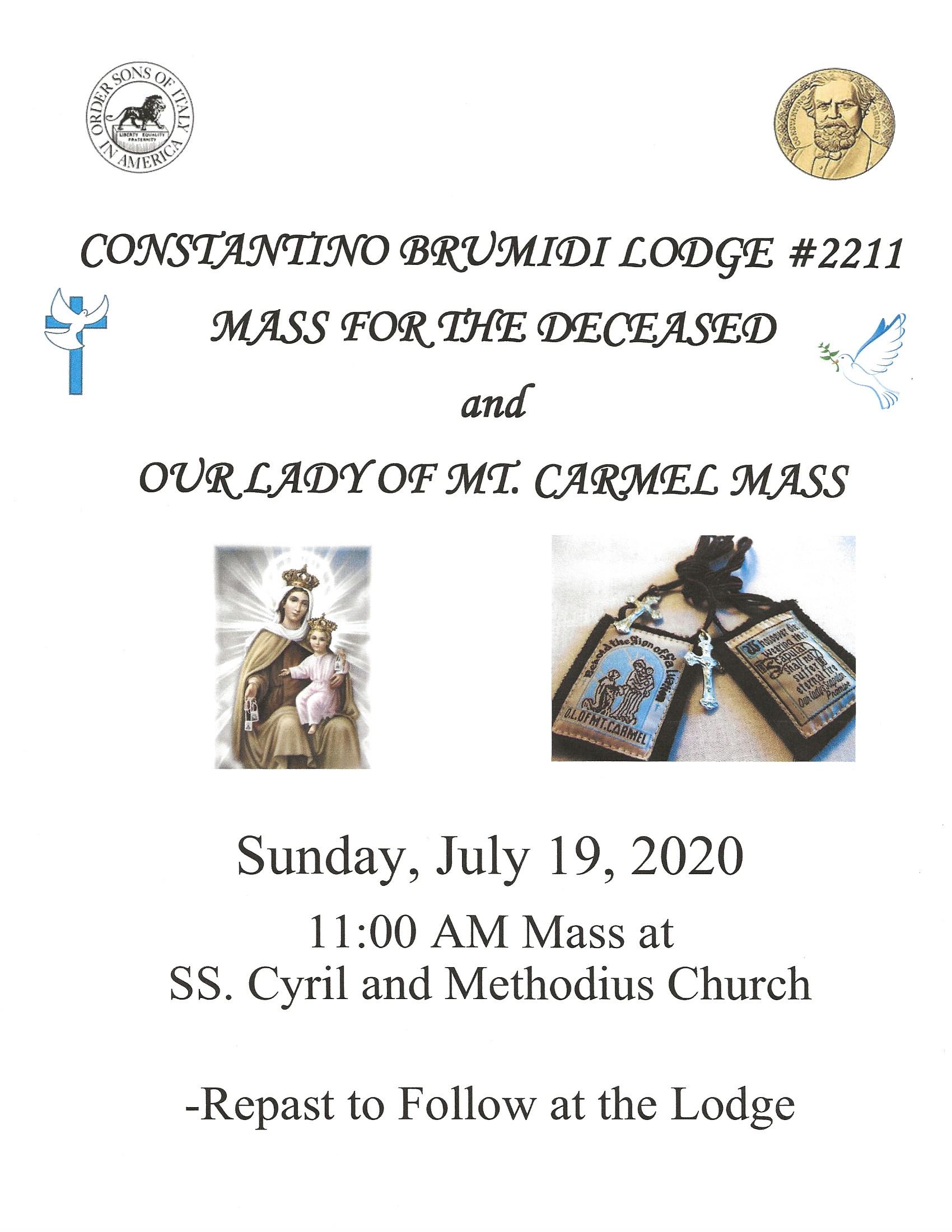 Mass will be held at Sts. Cyril & Methodius Church on Sunday, July 19 at 11 am
honoring our deceased Lodge Members while we pay tribute to Our Lady of Mt. Carmel.
Scholarship Dinner Dance will be held on Saturday, August 29.
More Details Coming Soon.
October 3-4 Italian Feast & Festival includes Food, Music, Craft Vendors, Vegas Nights and so much more.
More details Coming Soon!
Join us on Saturday, October 31 for a Spooktacular Dinner Dance.
Costumes Optional.
More Details to follow.